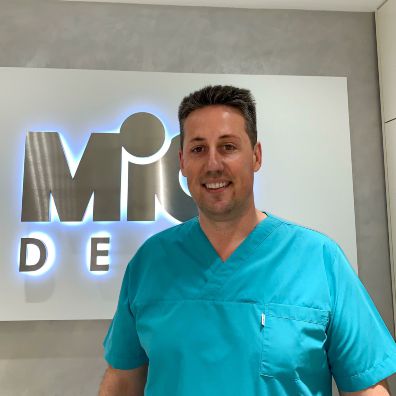 doctor of dental medicine with a recognized specialty in oral surgery, PhD
Master of Dental Medicine at the Medical University – Faculty of Dental Medicine, Plovdiv;
From 1994 to 1997 he worked as a general practicing dentist in the second city polyclinic – Gabrovo;
From 1997 to 1998 he worked in the orthopedic department of the Regional Dental Clinic – Gabrovo;
Since 1998 he has had his own private dental practice.
In 2000 he became a co-founder of the Dental Center "St. Ivan Rilski ", Gabrovo.
In 2006 graduated with a master's degree in "Financial Management in Healthcare" at the Academy of Economics "Dimitar A. Tsenov", Svishtov, and in 2007. – "Financial Management in International Business" in the same school.
In February 2007 in Chicago, USA together with Prof. Kisov participated in the admission of the Bulgarian Academy of Aesthetic
Dentistry as a full member of the International Federation of Aesthetic Dentistry;
Since 2006 he participates in numerous trainings of the Israeli company Alpha Bio Tec – practical dental implantology (surgery and aesthetics) and sales management.
In 2006, together with Dr. Khalil Zeina from Israel, he founded the company Medina Bio Ltd. (www.medina-bio.com), which became the exclusive distributor of the leading Israeli system for dental implantology Alpha Bio Tec (www.alpha-bio.net).
Dr. Doshkov and his team have a key role in introducing and promoting dental implantology in Bulgaria – until the end of 2015. More than 90 introductory trainings for beginners and over 26 for advanced to work with Alpha Bio Tec were conducted.
In 2008-2009 he completes the course "Key competencies in the field of health and health insurance" under project ESF-2121-10-01019 of OP "Human Resources Development";
He specializes in the fields of: prosthetics, aesthetic dentistry, oral surgery and dental implantology. He has taken certification courses in implantology in Israel, Italy, Hong Kong, Portugal, Russia and Hungary.
In November 2014 he takes part in a course on "Theoretical and practical aspects of complex implant and prosthetic cases", Petah, Israel.
On 29.05.2015 he participates in a practical course in "Microsurgery I level Dr. G. Manev", Sofia
On 25.09.2015 he participates in a practical course in "Microsurgery II level Dr. G. Manev", Sofia
In October 2015 he participates in a practical special class of Dr. Ofir Fromovich "Theoretical and practical aspects in complicated implant and prosthetic cases" Petah, Israel
In November 2015 he participates in the course "Scientifically based implantology in complicated cases and patients with concomitant diseases" Budapest, Hungary
In 2015 he defends a recognized specialty Oral Surgery.
In 2017 he defended his educational and scientific degree "Doctor" at MU Sofia.
Dr. Ivan Doshkov is a member of:
Bulgarian Dental Association;
The Association of Dental Managers in Bulgaria;